BRAND BUILDING TO DRIVE LONG-TERM EFFECTIVENESS
BLOG POST
BRAND BUILDING TO DRIVE LONG-TERM EFFECTIVENESS
Brand Building is the process of ensuring that people are familiar, aware and recognise your business. Brand building can be strengthened by identifiable logos, brand colours, brand story and consistent marketing and advertising messages. 
BRAND BUILDING IN ADVERTISING
Advertising activities can be divided into two main categories:
Short Term – Sales Activation
Long Term – Brand Building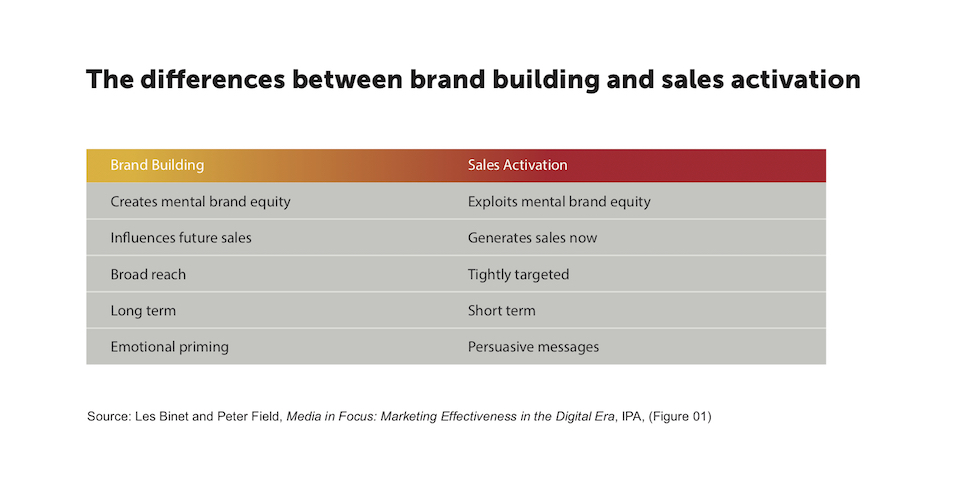 SHORT-TERM
Short-Term marketing activities are favoured by many businesses as they provide the opportunity to promote offers, competitions and additional benefits to help increase sales and revenue. The rise in the popularity of video and content offers an instant route to market, and provides an engaging way for viewers to process information.
Although short-term activation can lead to a ROI (return on investment) and contribute towards short term gains, used in isolation, this style of marketing demands constant energy, attention and monitoring.
LONG-TERM
Brand building takes time to achieve, it involves investment, research and patience. Every touchpoint of the business can considerably affect how the brand is viewed. Activities that can contribute towards brand building:-
Providing good customer service
Achieving a customer friendly and easy to use website
Concentrating on meeting customer needs
Powerful marketing and advertising techniques
ADVERTISING CAMPAIGNS
Advertising campaigns offer the perfect opportunity to promote brands. Brand campaigns are usually identifiable as they often focus on creating a concept that is visually appealing, emotional, comedic or informative; all styles that promote recognition and easy recall.  
The perfect marketing strategy is to create a campaign that uses both Brand and DRTV activities:
The Brand Message – will familiarise the viewers with the name, logo, style and messages
The DRTV Message – will promote the product and service offering along with the short-term promotions.
CASE STUDIES
Oak Furniture Land
Omni-channel furniture retailer 'Oak Furniture Land' found the perfect advertising combination with their use of Brand and DRTV activities.  
Through the injection of comedy, and two well-known mascots Oak Furniture Land's brand creative concepts contributed towards them being identified as the 'second most recalled ad of 2017'. Conducted by Campaign magazine, this research measures the recall and likeability of British TV Advertising. Campaign Magazine article 
Oak Furniture also enhanced their advertising effectiveness by basing a number of their creative concepts within their stores, this resulted in their audience becoming familiar with their physical bricks and mortar identity.
VICTORIAPLUM.COM
Launching their new brand concept during the ad-break for the X-Factor in 2017, Victoriaplum.com used the results of their in-depth market research to create an emotive advertising campaign that would resonate with their target audience. This 60-second Brand campaign was complimented by a DRTV campaign that concentrated on the products.
Saturated Markets
Brand building is fundamental in saturated markets. When investing in campaigns, brands must focus on providing a clear call to action and direction, failure to do so will result in their competitors reaping the rewards of advertising activities. For instance, following exposure to an advertising campaign, the viewer must be driven to perform a Google search for the brand, e.g "Victoriaplum.com, rather than a product or service e.g. "Buy New Bathroom". 
Content is Key
The creation of online content has been a powerful contributor towards the increased brand loyalty. Brand awareness is embedded into our lifestyle and brands have recognised the importance of being a trusted source for their desired audience. Investing in shareable content can achieve this desire:
Video hints and tips
Expanding their resource areas to cover topics and subjects that complement their offering.
If you need some creative guidance on how to develop a perfect video content strategy that focuses on brand building, please contact us. 

T: +44 (0)161 713 3780
EQUINOX FILM AND TV PRODUCTION LIMITED
18TH FLOOR
BLUE TOWER
MEDIACITYUK
SALFORD QUAYS
MANCHESTER
M50 2ST
REGISTERED IN ENGLAND WALES 04860778 © COPYRIGHT EQUINOX TV 2018. ALL RIGHTS RESERVED.